(4)

(6)

(2)

(1)

(4)

(7)

(1)

(5)

(6)

(14)

(1)

(6)

(9)

(4)

(9)

(6)

(1)

(2)

(6)

(3)

(3)

(6)

(13)

(4)

(3)

(3)

(2)

(1)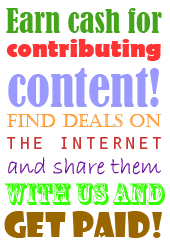 Kids & Toys
Showing offers 1 to 2 of 2



The Entertainer Flash Sale up to 50% off Toys

The Entertainer, formerly known as the Toy Shop are running a Flash Sale with up to 50% off a massive range of toys for children of all ages. You could pick up some incredible bargains for Christmas or Birthday presents.
More Info - Hits: 1696 - Votes: 4



Like us on facebook for another way to stay in the loop and never miss a freebie, competition or amazing deal.