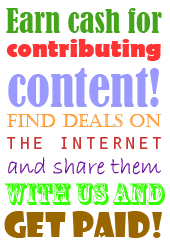 Today's Featured Freebies, Competitions & Deals
YAY - it's the weekend!



Free Government Backed Boiler Grants
If you are a home owner or private tenant and have a boiler older than 7 years and are on certain benefits you could be one of the 2 million people yet to claim a free Government Backed Boiler Replacement. Pop a few details in the form on the Boiler Grants web site to find out if you are eligible.




Free High Street Vouchers for Taking Part in TV Surveys
Head over to the web site linked, register and confirm your email to take part in a survey for the UK's biggest Terrestrial TV companies and they will reward you with High Street shopping vouchers of your choice including a Starbucks Coffee and Cake.




Free Products to test at Home & Earn Vouchers
Register on the Mingle web site to participate in online surveys and test products at home and be rewarded in mingle points, which you can exchange for high street shopping voucher. Free products and free cash, what's not to like?




Free Pantene Breakage Defence Conditioner Samples
Well if it's good enough for Ellie Goulding's blonde locks it's good enough for mine too. SuperSavvyMe of 10,000 10ml Pantene Breakage Defence Conditioner sachets to give away so you too can discover why Strong is Beautiful. Enter for your chance to get one.




Free £40 Bingo Cash & 150 Spins
This is one of the most generous Bingo freebies we've come across in a while. Just open an account on the Butler's Bingo web site and deposit £10 and they will give you an extra £40 instantly. Plus you also get 150 free spins on their Rabbit in the Hat game. With all that it shouldn't be too difficult to win some cash.




Free Farrow & Ball Paint Sample
If you've never tried Farrow & Ball paint then this free sample offer could change the way you think about paint. Head over to the Emerald Street web site and request a free sample pot in any of the 9 new colours!




£50 Free Bingo from Ladbrokes
Hey Bingo fans! Ladbrokes have launched their new games and to celebrate they are giving away a mega £50 free bingo cash. Head over there now to cash in and play!




Free Wildflower Seeds from Just Bee
Right now bees are struggling to survive and Just Bee Drinks are determined to do something about it! They are giving away free packets of wild flower seeds to anyone that asks and they want you to plant them in your garden. Just fill in the form on their web site and they will fly some free wildflower seeds to your door!





Free Elizabeth Shaw Chocolates
Of all the chocolate makers we've featured, Elizabeth Shaw is by far the most generous when it comes to freebies. They have recently launched their Cocoa Lounge. Sign up now and you'll be in for some great chocolate surprises, tempting invitations, must-win competitions, and offers to make you go 'oooh'. Plus on your birthday you will be sent something sweet and special.




Free Dyson V6 Absolute
If you don't like doing the hovering then you're not alone but it's got to be done so here is a sweetener. The web site linked are giving away free Dyson V6 Absolute's to test and keep. These mean machines made in Britain will make easy work of your housework. Apply to get one today!





Free Canderel Sugarly Granulated Sweetener
Want sugary taste without the calories or tooth decaying properties of table sugar? Then give Canderel Surgarly a try, it's supposed to be the closest thing to sugar since sugar but actually isn't sugar - lol, what a tongue twister. Head over to the Canderel web site to request your free sample today before they run out.




Free Summer Beach Bag
Starting with this Saturday's paper, every MyMail member can get a free summer bag worth £15. There are 20,000 up for grabs so plenty to go round. See the page linked for details.




£5 off £40 Shop at LIDL This Bank Holiday Weekend
Planning a big food shop for the Bank Holiday Weekend? Then make LIDL your supermarket of choice because on page 11 of the Metro Online there is a £5 off a £40 shop at LIDL voucher. Valid until Monday 30th May 2016.




Free Brut Sport Style Deodorant
The new Brut Sport Style deodorant is clean, fresh and goes with everything! There are 2,000 free samples up for grabs on the Trnd web site linked. The sample package includes 1x 200ml Brut Sport Style Deodorant Can, 10x cricket fixture cards, 10x money off coupons £0.50, Spread the word booklet. This is an amazing freebie so don't miss out.




Free Maybelline Color Sensation Lipstick
Now you can have fresh breath and beautiful lips when you buy a promotional bottle of Listerine you can claim a free Maybelline new York Color Sensation Lipstick. See the page for details.




Free Aquapac Tote Bags
Nikwax have a brilliant new giveaway on at the moment. Aquapac tote bags are a stylish bit of kit that'll keep your gadgets safe whatever the weather. Nikwax have 10 of these to give away in their online draw, 5 x Aquapac Small Tote Bags which retail for £25 and 5 x Large Totes that can accommodate a laptop and retails for £35. Just complete a form.




Free £100 Pizza Hut Experience
Signup to become a Pizza Hut mystery diner and you could be selected to spend £100 on a Pizza Hut feast in a town close to you. This is a great opportunity to treat the whole family to a tasty freebie!




Free De'Longhi Coffee Machine
How would you like to have a shinny new Italian made De'Longhi Coffee machine sitting pretty in your kitchen? Just complete the form on the web site linked and you could be one of the people in your area chosen to try and keep one of these.




Win 1 of 10 Ryvita goodies & Sistema Bento Lunch Box
Ryvita are on a mission to get Britain to shake things up at lunch time, so they have teamed up with a few friends to give you a prize that's guaranteed to get you excited about lunch. One lucky winner will get their hands on £1,000 worth of John Lewis or Waitrose vouchers, a hamper of Ryvita and a Sistema Bento Lunch Box. Plus 10 runners up will get a goodie bag of Ryvita and a Sistema Bento Lunch Box.




Free LED Torch Keyring, Bum Bag & More
This is a low spend freebie but well worth jumping in. Brother's Cider have got 5,000 free festival kits up for grabs and all you have to do is buy a promotional bottle and enter the code on the web site linked. Each kit includes a Bum Bag, Beach Ball, LED Torch Key Ring, Festival T-Shirt, Sunglasses & Canvas Bag.




Free Summer Holidays from Walkers Crisps
If you haven't already booked your summer holiday it's time to buy a packet of crisps because if you Collect letters from special Walkers packs and spell destinations you win a free holiday for up to 4 people. There are 20,000 up for grabs in partnership with Lastminute.com. See details on the Walkers web site linked.




Win a Polaroid Snap Digital Camera
Polaroid have recreated the magic of classic instant photography with the Polaroid Snap - the newest way to snap, print, and share life instantly. These colourful little cameras are lots of fun and you actually get a photo you can hold - imagine that! Enter for your chance to win one of them.




Win a FIAT 500
Want to win a charming recreation of a much-loved classic, the Fiat 500 Lounge, absolutely free in this latest competition. With all modern amenities and top-level safety features, this unashamedly retro run-around is not only a lot of fun to drive but also economical and full of character.




Daily Paid Surveys & Instant £2.50 for Joining
One Poll is the world's fastest growing online market research company. They send their members Daily Paid Surveys and if you register today they will add £2.50 to your account instantly. You have to confirm your email address to get your £2.50 and see the 12 top paid surveys which you can take right away.




Free Beldray Laundry Prize Hamper
Your Home Magazine have teamed up with Beldray to offer 15 winners a fantastic laundry bundle, worth £100. If you must do the laundry you might as well do it in style!




Free La Roche-Posay Sun Cream & UV Patch
There are 7,000 free samples of La Roche Possay Ultralight sun cream plus free uv patches up for grabs. Just complete the form on the page linked. This is a great combination of products, the sun cream protects you from UV rays and the UV Patch will help you to monitor your skin exposure to UV rays. Worry free sub-bathing!




Free Le Rustique Hamper & Camembert Coupon
I'm a foodie so this is the most exciting freebie for me today. Le Rustique are celebrating the arrival of spring in style by giving 100 people the chance to win an awesome food hamper. Each gourmet hamper contains one bottle of red wine, Bordeaux 2007, one Apple and Walnut confit, one French Spice cake and of course one Le Rustique Cheese Container. Just register on their web site to enter and they will also send you a free 30p off Camembert coupon.




Free Redbush Tea Samples
The Redbush Tea Company have teamed up with The Lion King the musical to one lucky person and a guest the chance to win a South African safari holiday. Plus every person that enters will also receive 3 free samples of their Original, Chai and Citrus Rooibos teas. Head over to the web site linked and enter.




Win 1 of 5 Santa Maria Mexican Food Goody Bags
Santa Maria have got an amazing Bank Holiday giveaway for you! 5 lucky winners will win a Mexican goody box packed full with their delicious products. Just complete the form on their page to enter this finger licking competition.





Win a Weekend in Mallorca
Whether you've got your summer holiday sorted or not you don't want t miss the chance to have an all expenses paid weekend break in sunny Mallorca. Pop a few details in the form on the page linked and you could be jetting off with a friend for a relaxing weekend on this sunny Balearic island.




Win a Day at Wimbledon with World Duty Free
2016 marks Lanson's 39th year associated with the world's favourite tennis tournament and to celebrate they have teamed with World Duty Free to give one lucky person the chance to win a luxury day out at Wimbledon. Plus two lucky runners-up will also each receive a bottle of Lanson Black Label and a pair of official Wimbledon 2016 Championship towels.




Free pregnancy advice for every stage!
With advice tailored to every stage of pregnancy, 1-to-1 support from our dedicated Careline, a handy pregnancy diary and a free cuddly cow – C&G baby club makes the perfect companion in your amazing journey from bump to baby. We're with you all the way!




Free Bottle of Volvic Juice
Simply text VOLVIC to 65009 to claim your free bottle of Volvic Juiced Tropical drink.You then show your coupon at your nearest PayPoint retailer to claim your free Volvic Juiced Tropical bottle.




Free Hand Held Scanner & Gifts For Feedback
Join the Nielsen consumer panel for free and they will send you a hand-held scanner designed to read bar codes on items that you buy. In return for scanning items you buy you will earn valuable gift points, redeemable towards gifts offered in their catalogue.




Free MAC Beauty Products
On the web site linked they are looking to recruit more product testers to test some MAC cosmetics! Just register for the panel and you could be selected to try out anything from lipsticks and mascaras, eyeliners, cleansers and more. It's a brilliant way to get some free top quality makeup.




£45 worth of Shopping Vouchers for Joining Digital Trends Panel
Join the Digital Trends Panel today and they will give you £15 just for registering and then a further £30 for taking surveys about technology devices, brands and advertising you encounter in your daily life. Its a really easy way to make some spare cash.




Free Nutribullet Blender
These Nutribullet Blenders are all the rage at the moment and are hailed for sqeezing every last drop of nurtients from whatever you put in them and blitz. It's a tasty way to get your five a day. Apply to be a tester and one of these could be yours for free.




Free MAC Lipstick
Every month on the web site linked they are going to select 20 people to receive a free MAC Lip stick to test. If you want to be one of them just pop a few details in the form.




Free OralB Pro 3000 Electric Toothbrush
You only get one set of teeth so treat them well. Enter on the web site linked for your chance to be get one of the many OralB Pro 3000 Electric Toothbrushes up for grabs in your area.




Like Our facebook Page
Help spread the word about Offeroasis.co.uk by 'Liking' our facebook page. Just visit our facebook site linked to and click on the 'Like' button. Thanks for your support.