(4)

(6)

(2)

(1)

(4)

(5)

(1)

(4)

(5)

(9)

(1)

(6)

(8)

(2)

(9)

(6)

(1)

(2)

(6)

(3)

(3)

(6)

(12)

(3)

(3)

(3)

(2)

(1)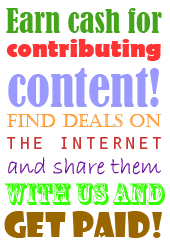 Electrical
Showing offers 1 to 5 of 5

PS Vita £99.99 plus Free P&P at Game

At the moment you can pick up a pre-owned PS Vita for just £99 at Game. Plus if you use the Discount Code 'CLOUDJUN13' you will get £5 off a £50 spend. This is only available while stocks last so hurry if you don't want to miss this brilliant deal.
More Info - Hits: 90 - Votes: 0











Like us on facebook for another way to stay in the loop and never miss a freebie, competition or amazing deal.