(4)

(6)

(2)

(1)

(4)

(7)

(1)

(5)

(6)

(14)

(1)

(6)

(9)

(4)

(9)

(6)

(1)

(2)

(6)

(3)

(3)

(6)

(13)

(4)

(3)

(3)

(2)

(1)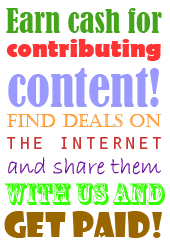 Health & Beauty
Showing offers 1 to 9 of 9

£10 off £25 Spend at The Body Shop

Hey! It's Mother's Day soon (March 26th) so thought this special offer from The Body Shop would be of interest. At the moment you can get £10 off a £25 spend when you use the code 19805 at the checkout. Valid until 13th March 2017
More Info - Hits: 59 - Votes: 0


Support the SmokeFree Plain Packs Protect
The Government has launched a public consultation on whether the UK should adopt the plain packaging of tobacco products. Signup on the SmokeFree web site linked to and support the campaign for plain packaging for cigarettes to protect children from the dangers of smoking. It just takes a minute of your time.
More Info - Hits: 869 - Votes: 4






12 Weeks for the Price of 8 with Sainsburys Diets

Sainsbury's Diets is an online diet club that gives members two popular and effective weight loss methods – a Meal Plan and a Food Diary – all in one membership. Join today and get 12 weeks membership for the price of 8. There are also exclusive special offers only available to members.
More Info - Hits: 514 - Votes: 2


Try Select Teeth Whitening for just £9.95

Try two teeth whitening products (Choice White and Select White) for just £9.95 postage and packaging. If you are not happy with the product you can cancel your order within 14 days and you will not be charged any further.
More Info - Hits: 672 - Votes: 14






Free iPod Nano Arm Strap

Spend £60 or more and get a FREE MaxiMuscle arm strap for iPod Nano. Plus get a FREE Maximuscle Frisbee with any order!
More Info - Hits: 618 - Votes: 4



Like us on facebook for another way to stay in the loop and never miss a freebie, competition or amazing deal.