(4)

(6)

(2)

(1)

(4)

(7)

(1)

(5)

(6)

(14)

(1)

(6)

(10)

(4)

(10)

(6)

(1)

(3)

(7)

(3)

(3)

(6)

(14)

(4)

(3)

(3)

(2)

(1)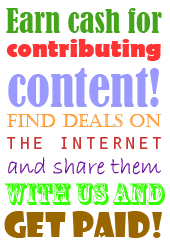 Utilities
Showing offers 1 to 2 of 2

Switch Energey Supplier to EDF and Save Money

EDF Energy is Britain's largest electricity generator. They have put sustainability at the heart of their business, by making industry leading commitments including to reduce the intensity of carbon dioxide emissions from our electricity production by 60% by 2020. Switch your energey provider to EDF and you could save up to 20% on your energy bills.
More Info - Hits: 495 - Votes: 11


Switch with Which Energy Prices Comparison

If you're not happy with the price of your energy bills you should vote with your feet and try and find a better deal. Which are consumer champions and their Switch with Which service can find you the best deals possible and all you need to do is select your region to see how much you could save.
More Info - Hits: 824 - Votes: 4



Like us on facebook for another way to stay in the loop and never miss a freebie, competition or amazing deal.