(4)

(6)

(2)

(1)

(4)

(7)

(1)

(5)

(6)

(14)

(1)

(6)

(10)

(4)

(10)

(6)

(1)

(3)

(7)

(3)

(3)

(6)

(14)

(4)

(3)

(3)

(2)

(1)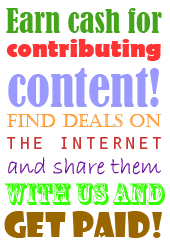 Surveys
Showing offers 1 to 3 of 3

Earn cash with Crowdology Surveys

Join the Crowdology web site and start earning anything from 50p to £10 for taking part in online surveys. There is a very high demand for this so spaces are limited to 10,000 panel members so if you want to be one please hurray.
More Info - Hits: 2038 - Votes: 12







Like us on facebook for another way to stay in the loop and never miss a freebie, competition or amazing deal.