(4)

(6)

(2)

(1)

(4)

(7)

(1)

(5)

(6)

(14)

(1)

(6)

(10)

(4)

(10)

(6)

(1)

(3)

(7)

(3)

(3)

(6)

(14)

(4)

(3)

(3)

(2)

(1)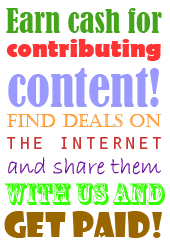 Shopping
Showing offers 1 to 4 of 4

amazon.co.uk Outlet Drop Sale Products

At the Amazon UK's Special Outlet Discount store you can find Amazon's largest online sale selection. Shop from categories like home, health care, books, baby products, sports, and more. Amazon's Outlet is the place to find great products at discounted prices, with new items being added regularly.
More Info - Hits: 701 - Votes: 0


£50 H.Samuel Gift Card for £37.50

Bespoke Offers is Barclaycard's promotions web site and at the moment they have a brill offer up for grabs. They are selling a £50 H. Samuel Gift Card for just £37.50. So if you are thinking about treating a loved one and just can't decide what to get them, this could be your answer.
More Info - Hits: 651 - Votes: 2


Daily Discounts With Tip The Sales (London)

Tip The Sales is a consumer driven web site offering an amazing deal everyday with up to 70% off most retail prices. Join their mailing list to receive their deal mailer to keep up with the best deals and pounce on the right one. At the moment they focus on mainly discount offers provided by retailers based in London.
More Info - Hits: 633 - Votes: 11





Like us on facebook for another way to stay in the loop and never miss a freebie, competition or amazing deal.