(4)

(6)

(2)

(1)

(4)

(7)

(1)

(5)

(6)

(14)

(1)

(6)

(10)

(4)

(10)

(6)

(1)

(3)

(7)

(3)

(3)

(6)

(14)

(4)

(3)

(3)

(2)

(1)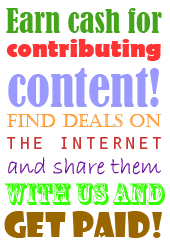 Kids & Toys
Showing offers 1 to 3 of 3

Parent Shield Child Monitoring Mobile SIMs

The Engine Mobile SIM from Parent Shield is the perfect protection & training tool for your child so you can help them learn and stay safe when using mobile technology. As a parent you can record all calls and texts, set specific word alerts, set time and data controls and track the location of your child's phone anytime.
More Info - Hits: 160 - Votes: 9




The Entertainer Flash Sale up to 50% off Toys

The Entertainer, formerly known as the Toy Shop are running a Flash Sale with up to 50% off a massive range of toys for children of all ages. You could pick up some incredible bargains for Christmas or Birthday presents.
More Info - Hits: 1717 - Votes: 4



Like us on facebook for another way to stay in the loop and never miss a freebie, competition or amazing deal.