(4)

(6)

(2)

(1)

(4)

(7)

(1)

(5)

(6)

(14)

(1)

(6)

(10)

(4)

(10)

(6)

(1)

(3)

(7)

(3)

(3)

(6)

(14)

(4)

(3)

(3)

(2)

(1)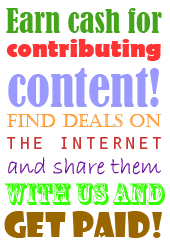 Home & Garden
Showing offers 1 to 10 of 10

90% off Chef Remi Kitchen Tools

Chef Remy Kitchen Tools are on sale at 90% off at the moment so if you're in the market for some new bit of kit, this is a good chance to score one. See the facebook page linked.
More Info - Hits: 97 - Votes: 0


Amazon Prime Day Deals

Today July 10th from 6pm onwards is Amazon Prime Day - 30 hours of unmissable deals to be had and a great chance to get that product you've been eyeing up for the past few weeks or months. Head over to the page linked and sign up for Prime so you can take advantage of all the deals on offer.
More Info - Hits: 107 - Votes: 0


Pay Monthly Boiler Quotes - Means-tested

Did you know that a more energy efficient boiler could save you up to £350 per year, according to the Energy Savings Trust? Find out if you are eligible for a pay monthly boiler and see the best prices in your area by searching the New Boiler Cost web site.
More Info - Hits: 138 - Votes: 0


Free Black n' Red Clip File Notebook

On the Black'n'Red facebook page they are giving away 1,000 free clip file notebooks. Just complete the form before January 31st and you could be getting one of these through your letterbox.
More Info - Hits: 1282 - Votes: 0




Free Tesco Bathrooms Design Visit

Tesco bathrooms are offering free Bathroom Design visits at the moment. If you are thinking a new bathroom this is a great opportunity to get a free design and quote Tesco Bathrooms. Just fill in the short form on their site to book a visit.
More Info - Hits: 962 - Votes: 7




Free Henry Tea Mug with orders over £79

Spend £79 or more at Euroffice and they will throw in a free limited edition Henry Hoover tea mug. If you're a fan of Henry Hoovers this is a nice companion to have your cup of tea in while doing the cleaning. As always Euroffice have amazing deals on home office furniture.
More Info - Hits: 458 - Votes: 2




10% Off Sale at Hilary Blinds

Hilary Blinds are offering 10% off ALL Blinds in their range. Hillary's is the UK's leading made-to-measure blinds specialist who come to your house and measure your windows free of charge.
More Info - Hits: 401 - Votes: 5



Like us on facebook for another way to stay in the loop and never miss a freebie, competition or amazing deal.