(4)

(6)

(2)

(1)

(4)

(7)

(1)

(5)

(6)

(14)

(1)

(6)

(10)

(4)

(10)

(6)

(1)

(3)

(7)

(3)

(3)

(6)

(14)

(4)

(3)

(3)

(2)

(1)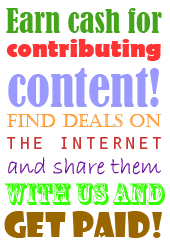 Food & Drink
Showing offers 1 to 10 of 14

50% off pizzas when you spend £15 or more

Looks like it's pizza and movie night this weekend because at the moment you can get 50% off when you spend £15 or more at Pizza Hut. That slashes the cost of a family meal right down the middle.
More Info - Hits: 119 - Votes: 0






Half Price Aero Easter Eggs at Tesco

The best thing about Easter are Easter Eggs and Tesco are leading the early charge by slashing the price of Aero Easter Eggs by half price, just 75p each. Good time to stock up then.
More Info - Hits: 190 - Votes: 0


Godminster Cheese £5 off Voucher

With the most romantic day of the year fast approaching Godminster Cheese are giving all of their lovely customers £5 off to spend on any gift in their online shop! I'm feeling a romantic meal with a sexy cheese board finisher.
More Info - Hits: 110 - Votes: 0


50% off Bella Italia Main Meals

Over on the Bella Italia page linked you can print off a voucher, which can be redeemed in most of their restaurants for 50% off a main meal. The voucher an only be used Sunday – Friday. Some of the tasty dishes you can get 50% off include Lamb Rosmarino, Gamberoni Risotto, Pollo Funghi, Insalata Verde Salmon, Insalata Pollo Caesar, Duck Florentine and loads more.
More Info - Hits: 89 - Votes: 0




Filippo Berio 500ml Bottle of olive oil for 99p

From Now until June 2nd 2013 Morrisons have 500ml bottles of Filippo Berlo Gusto Frutato Olive Oil on sale for half price, just £1.99. If you print off the coupon linked to that will bring the price down to 99p. Amazing price for a big bottle of Olive Oil.
More Info - Hits: 1527 - Votes: 5


Two Pure Lace Bras for £25

Head over to Ann Summers web site because they have loads of brilliant deals on a range of products including 2 pure lace bras for just £25.
More Info - Hits: 1029 - Votes: 1





Like us on facebook for another way to stay in the loop and never miss a freebie, competition or amazing deal.