(4)

(6)

(2)

(1)

(4)

(7)

(1)

(5)

(6)

(14)

(1)

(6)

(10)

(4)

(10)

(6)

(1)

(3)

(7)

(3)

(3)

(6)

(14)

(4)

(3)

(3)

(2)

(1)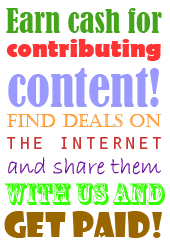 Fashion
Showing offers 1 to 5 of 5

Salt Rock up to 75% off Site Wide Winter Sale

Just found this EXCLUSIVE OFFER! The Salt Rock Winter Sale is now on with up to 75% off Site wide, Hoodies from £10, True Knitwear from £15 and T-shirts from £5. Head over to their page linked to access the sale.
More Info - Hits: 287 - Votes: 0


The North Face 50% off Sale

Hate to say it but winter will soon be here again so this 50% off sale from The North Face may be something you want to have a look at. Stuff is going fast so hurry if you don't want to miss the best bits.
More Info - Hits: 1309 - Votes: 7


Debenhams 20% off Occasion Evening Wear

With the party season almost upon us Debenhams want to give you a head start on getting that stunning evening wear so they are offering brilliant discounts of up to 20% on a range of party dresses, hats, bags, shoes and accessories. There is plenty of stock now but the best deals will go fast to hurry to get the best deals.
More Info - Hits: 404 - Votes: 3


Half Price Sale on at Debenhams

Debenhams are running a half price sale at the moment. There are half price deals on everything from clothes & fashion to Beauty & Fragrance, Shoes & Boots, Furniture and Homeware. Good chance to pick up an early Christmas present.
More Info - Hits: 796 - Votes: 3


30% Sale now on at Burton

Burton the menswear store have a 30% sale on at the moment with everything from suits to shirts to coats and load more all slashed by 30%. Sale ends on 10th October 2011.
More Info - Hits: 391 - Votes: 0



Like us on facebook for another way to stay in the loop and never miss a freebie, competition or amazing deal.