(4)

(6)

(2)

(1)

(4)

(7)

(1)

(5)

(6)

(14)

(1)

(6)

(10)

(4)

(10)

(6)

(1)

(3)

(7)

(3)

(3)

(6)

(14)

(4)

(3)

(3)

(2)

(1)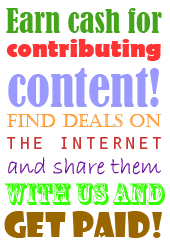 Education
Showing offers 1 to 4 of 4

Start your own tutoring business

Help children realise their potential by running your own Kumon maths and English study centre. With over 50 years in education, Kumon offers the support and training needed to build a successful career through running your business. Information sessions being held across the country throughout the autumn.
More Info - Hits: 882 - Votes: 2


Earn £600 a Week as a RED Driving Instructor

Become a driving instructor with RED Driving School and earn up to £600 per week. No previous experience is required to train as a driving instructor and you can choose when, where and how you work. Visit the RED Instructor web site and complete the inquiry form for more information.
More Info - Hits: 472 - Votes: 5







Like us on facebook for another way to stay in the loop and never miss a freebie, competition or amazing deal.