(1)

(12)

(70)

(97)

(19)

(4)

(286)

(31)

(850)

(67)

(28)

(19)

(40)

(129)

(327)

(91)

(341)

(1)

(1)

(483)

(12)

(188)

(48)

(41)

(1)

(118)

(8)

(143)

(69)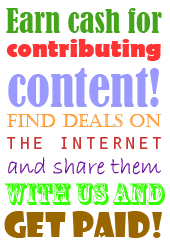 Gaming
Showing discounts 1 to 10 of 40







£28 off Aqua Blue Nintendo 3DS at Asda

| Site: ASDA
Save £28 on a Nintendo 3DS at Asda in lovely aqua blue colour, now just £169 with free home delivery! The nmust-have console of the moment which is sure to be in huge demand this Christmas, so get in early and save yourself some money into the bargain.
More Info - Hits: 102 - Votes: 0








Save £6 on Touchmaster 3 on Nintendo ds

| Site: HMV
Touchmaster 3 for the Nintendo ds, features 20 addictive games that you can play. Once you have mastered some of them challenge friends and family in the multiplayer mode.
More Info - Hits: 91 - Votes: 0


Nintendo Wii package save £30

| Site: Play.com
Save £29.99 on this Nintendo wii package, it includes 3 games, being Wii Sports, Wii Sports resort and Mario kart. A Nintendo Wii wheel is included to help Mario beat his Brother luigi round the track.
More Info - Hits: 102 - Votes: 0


Save £17 on EA Sports Active for Nintendo Wii

| Site: HMV
Complete with resistance band and legstrap EA Sports Active for the Wii is ideal for keeping fit. You can track your movement and progress with a 30 day challenge. Now only £27.99 at HMV, with free delivery.
More Info - Hits: 94 - Votes: 0



Like us on facebook for another way to stay in the loop and never miss a freebie, competition or amazing deal.